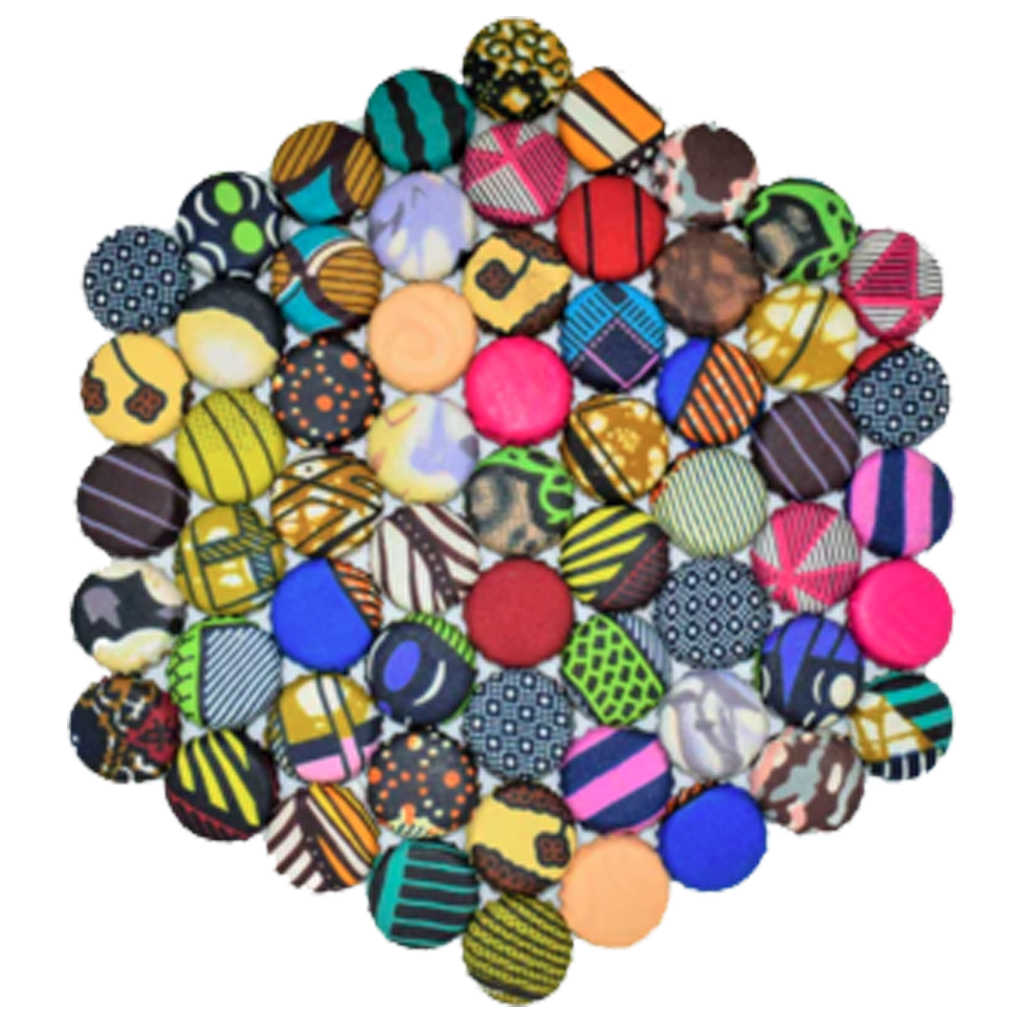 This 10-inch wide heat pad is made of recycled materials, and covered with textile bottle tops.
Produced by refugees in Kenya, who partner with Mikono, a project of Jesuit Refugee Service International. Mikono works with 75 suppliers living in or around Nairobi, from over 10 different nationalities. Each of them brings unique skills learned either in their home countries, or through livelihood training provided by JRS. When you shop at Mikono, you help a refugee make a living. 
These Patchwork products were developed by Triphose, a refugee in Kenya, couldn't get enough funds to purchase raw materials and tailor items for a living. Walking through the streets of Kibera, Triphose noticed all the scraps being tossed away by other shops. She stopped feeling overwhelmed about lacking brand-new fabrics and collected as many scraps as possible until she had enough to make a quilt. Since then, Triphose has supplied products to Mikono, selling exclusively Patchwork items, from table placements, to cushion covers and quilts, to clothing. 
Triphose arrived in Kenya in 1997. During her high-school years she studied "Arts Management" which included "couture, cuisine and nettoyage". She never knew those skills could help her make a living, until in 1998 she began doing hand embroidery. The following year she joined Kangemi Women Empowerment Centre to improve her stitching, and was able to get a sewing machine from JRS. In 2003, she enrolled in college to pursue Fashion and Design. When the market is good, her craft work allows her to pay or rent, food, clothing and children's schooling. She has been supplying to Mikono for over 20 years, stitching her patchwork with the support of her husband. In her testimony, Triphose tells other refugees: "Try to be flexible, and think outside the box. It is possible to survive despite the suffering and challenges that exile brings". She acknowledges it is not easy in exile to find a job, with the qualifications they once had at home.